As an Amazon Associate, I earn from qualifying purchases.
A motorcycle jacket should fit snugly and comfortably, with enough room for layers underneath and arm movement. Motorcycle jackets are an essential piece of protective gear for riders, providing both safety and style.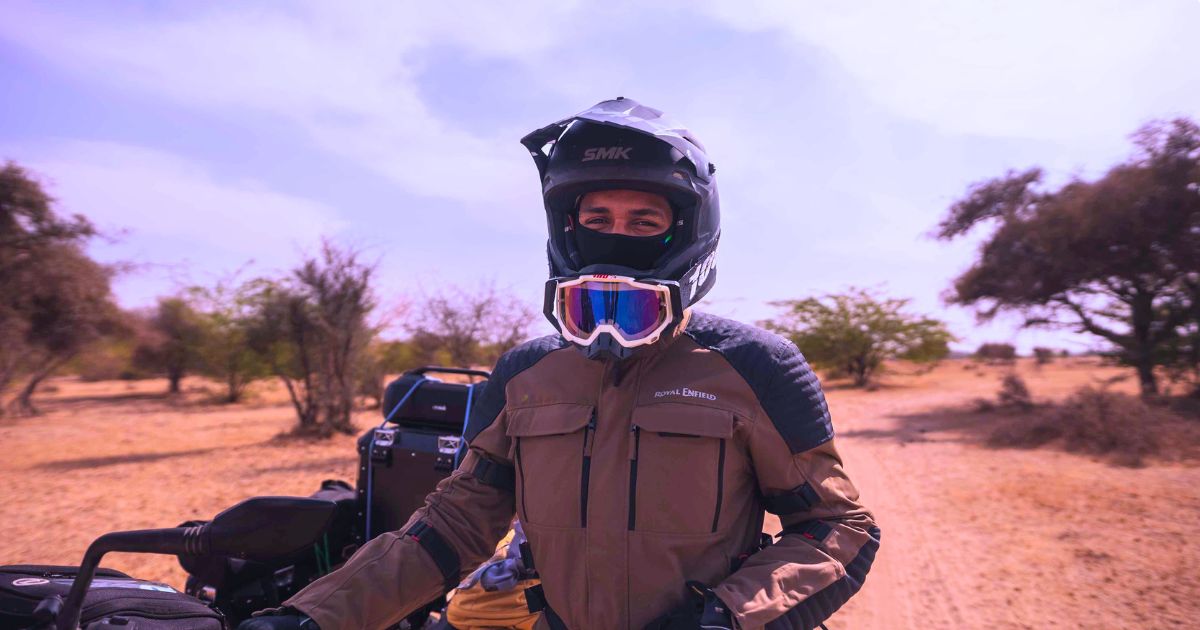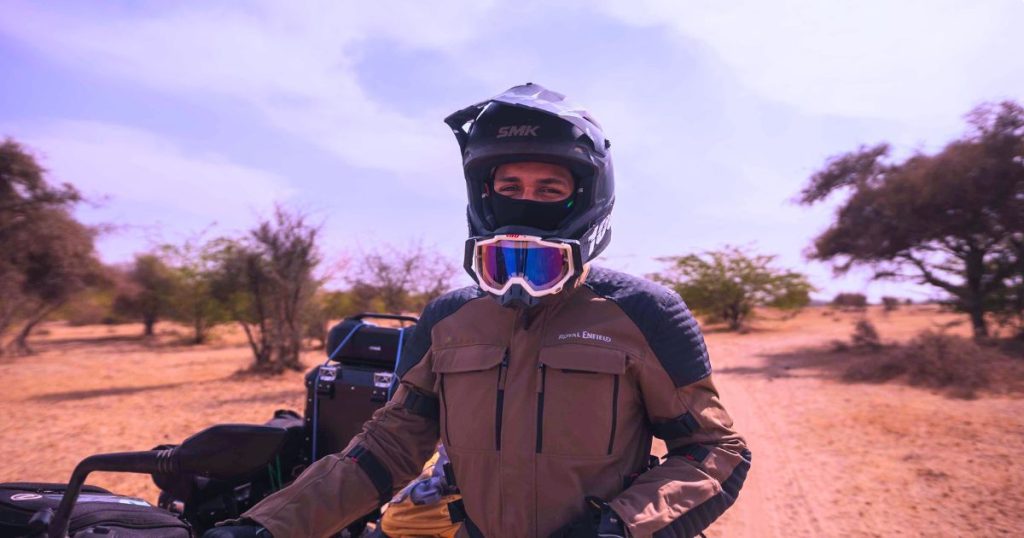 While there are many designs and materials to choose from, finding the right fit is crucial for maximum protection and comfort. In this article, we'll discuss how a motorcycle jacket should fit, what features to look for, and how to measure yourself for the perfect size.
With the right fit, you can enjoy your ride with peace of mind, knowing you're fully protected.
Introduction: The Importance Of Finding The Perfect Motorcycle Jacket Fit
Riding a motorcycle is an exhilarating experience, but it also comes with some inherent dangers. Hence, taking every safety precaution is imperative. One significant aspect of motorcycle safety is wearing a well-fitting jacket. Not only does it protect you from outside elements, but it can also offer protection from crashes.
Why Proper Motorcycle Jacket Fitting Is Crucial For Safety And Comfort
Motorcycle jackets are not just for looks; they play an essential role in keeping you safe during rides. Here are some key points on why a well-fitting jacket is crucial:
Protects the body: A properly fitting jacket that covers more than just the torso area, offers protection from abrasions, impacts, and crashes, especially in case of an accident.
Enhances rider confidence: A comfortable and well-fitting jacket keeps the rider focused on the road instead of adjusting their outfit while riding.
Minimizes wind-resistance: A professional motorcycle jacket, when fits you well, does not only keep you warm during speedy rides but also minimizes wind resistance, ultimately enhancing the rider's experience.
How To Find The Perfect Motorcycle Jacket Fit
When purchasing a motorcycle jacket for both safety and comfort, the fitting is the most critical aspect that impacts your riding experience. Below are some tips that will help you find the perfect motorcycle jacket fit:
Determine your body type: It is essential to understand your body type before purchasing a motorcycle jacket. It will help choose the style and size of the jacket that will fit you the best.
Measure the circumference of the chest, waist, and underarm: You need to measure your body precisely to get the perfect size of the jacket that will fit well.
Look for a snug fit: The perfect motorcycle jacket should fit snugly, as a loose-fitting jacket can impact your safety and protection levels.
Check the sleeve and shoulder length: The sleeve length should be long enough to cover the wrists, while the shoulder length should cover up to the edge of the shoulders.
Try different styles: It's not just about getting an appropriate size. It would be best if you tried out different styles of jackets before choosing the one that suits you the best.
Finding the perfect fit for your motorcycle jacket can be a challenge, but it is one that you need to get right. So next time you're out to purchase a new motorcycle jacket, make sure you follow these tips to get the most out of your ride.
Understanding Motorcycle Jacket Sizing: Finding The Perfect Fit
Finding the right size motorcycle jacket is crucial when it comes to both comfort and safety on the road. No matter how cool a jacket looks, if it doesn't fit correctly, it simply won't do its job. In this blog post, we will explain everything you need to know about motorcycle jacket sizing and how to find the perfect fit.
Key Factors To Consider When Selecting The Right Size Motorcycle Jacket
Choosing the right size motorcycle jacket goes beyond simply selecting your typical clothing size. Consider the following key factors before making a purchase:
Style: Different jacket styles have different fits. For example, a sporty or racing-style jacket will fit tighter and more streamline, while a cruiser-style jacket might be looser and more relaxed.
Material: The material of the jacket will also influence how it fits. For instance, leather will stretch and shape to your body over time, while textile jackets will typically fit more loosely, but are still adjustable.
Body type: Everyone has a different body type, so it's important to find a jacket that fits your specific shape. Some jackets are designed to be more accommodating to different body types.
Layering: Consider what you'll be wearing underneath your jacket. If you typically wear several layers, such as a sweater or hoodie, you might need a larger size jacket to accommodate these layers.
Measuring And Fitting Tips To Ensure The Jacket Is Comfortable And Functional
Once you have an understanding of the key factors to consider when selecting a motorcycle jacket, it's time to ensure that the jacket is comfortable and functional. Here are some measuring and fitting tips:
Use a tape measure: Measure your chest, waist, and hips to determine the best size jacket for your body type. Refer to the brand's size chart to choose the right size.
Get a second opinion: Have a friend or family member help you measure yourself. They can offer an objective opinion and may be able to spot sizing issues you can't.
Try it on with gear: Try the jacket on with the gear you usually wear when you ride, such as a helmet or gloves. This will give you a more accurate idea of how it will fit on the road.
Check the fit: Ensure the jacket fits snugly but is not too tight. You should be able to move your arms comfortably without any tightness or pulling.
Test it out: Do some practice movements with the jacket on, such as lifting your arms or sitting on a bike. This will give you a better idea of its functionality and comfort.
Finding the right size motorcycle jacket is essential when it comes to your safety and comfort on the road. By considering the key factors and following the fitting tips, you will be able to find the perfect fit for your body type, style, and riding needs.
Types Of Motorcycle Jackets And Finding The Right Style For You
Overview Of Different Types Of Motorcycle Jackets
When it comes to motorcycle jackets, there are various types available, each with its unique features and benefits. Knowing the different types of jackets will help you choose the right one that suits your needs and preferences. Here are the most common types of motorcycle jackets:
Leather jackets: Made from high-quality leather, these jackets are ideal for enhanced protection while riding. Leather jackets are durable, abrasion-resistant, and can protect you from cold weather. However, they can be heavy and less breathable.
Textile jackets: Made from fabrics like nylon, polyester, and kevlar, textile jackets provide excellent waterproofing and breathability, making them suitable for warm weather. They are often lighter than leather jackets, more comfortable to wear and more affordable. However, they offer less protection than leather.
Armored jackets: These jackets are designed with extra protection in key impact zones, such as the shoulders, elbows, and back. They can be either leather or textile, and their armor is made from materials such as foam, plastic, or kevlar. They offer great protection but can be a bit heavier and more expensive.
Mesh jackets: These jackets are made with lightweight mesh fabrics, and they provide excellent ventilation and cooling, making them perfect for hot weather. However, they offer less protection than leather or armored jackets.
How To Choose The Right Style For Your Specific Riding Needs And Preferences
Your choice of a motorcycle jacket depends on several factors, including your style preference, riding environment, and weather conditions. Here are some tips to help you choose the right style for your specific riding needs:
Consider the weather: If you live in a hot climate, you might want to consider a mesh or textile jacket, while a leather or armored jacket is perfect for cold weather.
Think about your riding style: Are you a sportbike rider or a cruiser rider? Different styles of jackets complement different riding styles. For instance, a full-body racing suit will not be suitable for a casual cruiser ride.
Look at jacket features: Some motorcycle jackets come with useful features like reflective strips for high visibility, removable liners, and adjustable cuffs and collars. Consider these additional features when choosing your perfect jacket.
Try it on: Finally, don't forget the most crucial factor of all – fit. A well-fitting jacket should not be too tight or too loose and should allow for free movement while riding.
Finding the perfect motorcycle jacket requires a bit of research to determine the type and style that suits your riding needs. A quality motorcycle jacket is a critical piece of gear that can help keep you safe, protected, comfortable, and confident on the road.
Diy Jacket Alterations And Customizations
How to make simple alterations to your motorcycle jacket for a better fit
Finding the perfect motorcycle jacket can be tough. Even when you do, there is no guarantee that the fit will be perfect for you. Sometimes, a small adjustment can go a long way in making a jacket fit like a glove.
If you are looking for diy changes to make in your motorcycle jacket for a better fit, here are some suggestions:
Adjust the sleeves: If your jacket's sleeves are too long or too short, you can adjust them to fit your arms better. Roll up the cuffs to shorten the length or have a tailor adjust them to the desired length.
Tighten or loosen the waist: For jackets that are a little too baggy or loose around the waist, using a waist adjuster is the easiest solution. However, if your jacket doesn't have a waist adjuster, take it to your local tailor and ask them to add an elastic waistband or make a simple adjustment to get it to fit better.
Shorten or lengthen the jacket: If you've found a jacket that fits well around the chest but is a bit too long or too short, you might consider taking it to a tailor or doing it yourself using a sewing machine. Altering a leather jacket is not the same as altering other materials, so it's best to do your research before you begin.
Resources for finding a tailor to create a completely custom-fit jacket
Sometimes, making diy alterations to a motorcycle jacket might not be enough. In those situations, you might want to consider getting a custom-fit motorcycle jacket. Here are some resources to help you get started.
Ask for referrals: Ask your friends who own a perfectly-fitted motorcycle jacket if they know any tailors or can recommend a high-quality and reputable tailor in town.
Research tailors online: Search online for tailors who specialize in creating custom-fitted motorcycle jackets. Ensure you read reviews and testimonials from previous customers to get an idea of their expertise and quality of service they provide.
Visit a local tailor: Visiting a local tailor or bespoke clothier in person is a great way to speak with someone face-to-face about your requirements and needs.
Remember to convey your preferences and specifications before allowing the tailor to work on your jacket. Custom-fitted jackets come with a price tag, but they are worth the investment if you desire a jacket that fits like a glove.
Frequently Asked Questions For How Should A Motorcycle Jacket Fit?
How Snugly Should A Motorcycle Jacket Fit?
A motorcycle jacket should fit snugly around the torso, arms and shoulders to offer maximum protection.
How Long Should A Motorcycle Jacket Be?
The length of a motorcycle jacket should extend past the waistline to cover the lower back and prevent any skin exposure.
Should A Motorcycle Jacket Be Loose Or Tight?
A motorcycle jacket should not be too loose or too tight, it should fit snugly but allow for comfortable movement and flexibility.
Conclusion
Getting a motorcycle jacket that fits you perfectly is crucial for proper protection and comfort while on the road. A well-fitting motorcycle jacket should be snug but not too tight, with room for necessary mobility and layering. When selecting a motorcycle jacket, consider the type of riding you'll be doing and choose a jacket that fits the bill.
Don't forget to pay attention to the overall jacket design, including materials, armor placement, and ventilation. Finally, make sure to try the jacket on before buying, and if possible, bring your favorite riding gear along to ensure a perfect fit.
A comfortable and well-fitted motorcycle jacket will enhance your riding experience, keep you safe in case of an accident, and ensure you look great while riding. So, keep these tips in mind next time you shop for a motorcycle jacket, and happy riding!